21st century's customers learned to ignore commercials of all types. Statistics show that almost half of people use Ad-Block technology. Here are other stats to consider:
"70% of teens trust influencers more than traditional celebrities
86% of women use social media for purchasing advice
49% of consumers depend on influencer recommendations
60% of teens follow advice from influencers over celebrities
74% of people trust social networks to guide purchasing decisions
40% of Twitter users made a purchase based on a tweet
Facebook is the most influential social media network
60% of consumers have been influenced by social media or a blog while shopping at a store
Purchase intent increased by 5.2x by influencers on Twitter."
Here's what these stats mean:
Your brand can remain mostly unknown or even avoided if you're playing the advertising game wrong.
The crucial mistake some brands are still making now is this:
They're not addressing their customers' needs.
You may be doing the same thing, too, without even knowing it. If you can't connect to your audience at a deep level, you're going to lose them.
If you want to avoid that, consider a brand ambassador program. This plan works because you're going to work with influencers that are faithful to your brand.
They already use your products, so they have excellent insight into what mobilizes other people. Besides, they will raise awareness about your brand so that more people buy your products.
Here's the thing: you have to build the right ambassador program to get the best results.
Read along to find out what works, how to build your Instagram ambassador program, and how to evaluate the results.
Click on the links below for quick navigation:
How to Create a Brand Ambassador Program
Brand Ambassador Program Examples
Instagram Brand Ambassador Program
How to Track a Brand Ambassador Program
How To Keep Brand Ambassadors Engaged
How To Create A Brand Ambassador Program
Do you want your brand to reach its maximum potential and target as many people as possible? Then you should build a loyal brand community that will always choose you over the competition and defend you in times of crisis.
Brand ambassadors can help you do that.
Here's the catch:
You have to learn how to create a brand ambassador program that works.
This guide will help you consider all the facets of your campaign to ensure you're building awareness, credibility, and increasing your revenues.
But first:
Is an Ambassador Program Right for Your Brand?

Brand ambassador programs don't fit all brands. Before you start one yourself, consider these points:
Some customers are already disseminating news and content about your brand. A few of them may even be creating original content.
You're receiving requests from customers who want to be your brand's voice.
Your brand represents people's ideals and values. For example, you have a health-oriented brand or one that fights against global warming.
Your brand community is tied together with strong bonds. Your customers are loyal and engage with each other. They also take your side against the competition.
Your revenue is over $100,000/ month, or you're selling at least 1,000 products monthly.
What to Consider for Your Ambassador Campaign
Remember that brand ambassador campaigns aren't set in stone. You have to be flexible about their evolution. However, you have to build a rock-steady foundation based on these pillars:
Choosing the right brand ambassadors. Make sure these people are loyal customers who share the same values as your brand. Ensure they can always engage their followers.
Find the appropriate activities and channels. Some brand ambassadors are better at posting Insta stories, while others perform better on video. Next, set minimum requirements for your ambassadors to follow.
Consider your reward program. You could offer your brand ambassadors money, discounts, goodie baskets, and more. Some brands also offer their ambassadors first dibs at new apps or products.
Think of the results. Your brand ambassador program should have a financial justification. However, profits are subjective, depending on your brand's current earnings. You should also consider other goals, such as brand awareness.
How to Draft Your Brand Ambassador Campaign
Your campaign should begin with your goals. Whether you want to overcome a PR crisis, increase brand awareness, or raise revenues, clear goals are essential because:
You'll know what you want to achieve.
That means you'll know:
What makes you different than the competition
Who your audience is
What key performance indicators to set
Who your best brand ambassadors are
What channels to use
What strategies, tactics, and instruments to choose
How to measure your campaign's results according to your KPIs
How to Find Brand Ambassadors
Before delving into the matter of finding brand ambassadors, consider this:
Influencer campaigns aren't the same as ambassador programs.
You can read more about that here, but the point is brand ambassadors don't have to be as influential and renowned as influencers.
But they do have to be loyal to your brand.
It gives you a world of opportunities because you can find brand ambassadors even among your existing customers and employees.
Many brands already use this strategy. Think Transferwise.
Using your customers and employees as brand ambassadors means pondering these questions:
Can your brand empower these people?
Does your brand have a strong culture?
Can an employee still be your brand ambassador after leaving the company? Hint: probably not if they go to the competition.
Probably most important of all:
What if one of your customers is using both your product and the competing brands?
The answer is complicated, but you can make things work if your brand ambassador uses an indirect competitor's products. That way, they can highlight different purposes for each item.
Before you settle on your brand ambassadors, consider these issues:
Their personality
The channels they'll use
The messages they'll disseminate
Whether brand ambassadors should post original content or you will provide them with visuals and captions
If the brand ambassador fits your brand's image, personality, and values
Once you have a profile all set, here's how you'll find your ambassadors:
On your social media: the people who are most vocal about your brand. Make sure these people can influence and engage others.
At a networking event
In your customers' database
Or you can choose one of the best online tools on the market:
How To Structure Your Brand Ambassador Campaign
1. Goals. Structure your brand ambassador program by setting your goals. We already discussed that above. Make sure you evaluate your current position first and that you set SMART objectives.
2. KPIs. Key performance indicators can include:
Ambassador's reach
Their traffic
The revenue your brand ambassadors will bring in.
The new social media activity about your campaign
New social media messages during the campaign
The number of likes, comments, and shares. These variables represent engagement
The number of brand ambassadors disseminating your messages
The number of influencers not living up to their part of the deal
3. Strategies. Use these KPIs to set the right strategies, tactics, and instruments. Consider each of your messages carefully and review the best channels according to your audience's profile. For example, you can use:
Messages that trigger your customers' curiosity
Inspirational and motivational posts
Original content from your customers
Polls
Tips-and-tricks articles
Competitions
Roasts
4. Measure the results. You can measure brand awareness by considering social media engagement and organic participation. You can also track sales effortlessly if you give your brand ambassadors personalized promo codes and links. Or, you can use lots of tools like Instagram tracking, Google Analytics, and inBeat tracking.
Craving for more details about building an effective brand ambassador campaign? You can read our complete guide for brand ambassador programs here.
Create Brand Ambassador Policies And Guidelines
Make sure your brand ambassadors do what they're supposed to by drafting a contract. Here's what these policies and guidelines should include:
Exclusive rights if you don't want your brand ambassadors to be the voice of your competition as well
Repurposing rights to make sure you can use their content whenever you need
The results that your brand ambassadors should bring in. Define precise guidelines starting from the KPIs we discussed above
Your brand ambassadors' posting schedule
An NDA to make sure the competition doesn't find out your secrets
The pre-posting approval process, if you don't want surprises with original content from your ambassadors.
Everyone's legal responsibilities
Payment details, including dates, conditions, sums
Build Stronger Relationships
You have to build and keep a strong relationship with your brand ambassadors. For example, for the Mogo.ca campaign, we collaborated with a YouTuber Carter Sullivan who created series of videos about Mogo and its benefits. This long-term collaboration was possible only because we put effort into building relationships with this creator.
That means:
You have to be available for them and respond within 24 hours.
Keep them in the loop of your campaign.
Share new deals and products with your ambassadors.
Ask for their feedback about your products and brand.
Ask what they would do differently.
Outline your expectations precisely and offer ambassadors constructive feedback as well.
Create a safe space where your customers and brand ambassadors can meet, such as Facebook Groups.
Post your brand ambassadors' content on your social media, website, and product pages. As you recognize their efforts, you're building a stronger bond.
Create A Brand Ambassador Program With Great Rewards
Awesome rewards equal better pieces.
You need to have a great reward system in place to keep your brand ambassadors motivated. If you're only rewarding them when they bring in more sales, your ambassadors will tend to give up.
Unfortunately, that means they won't generate as much awareness as you need.
Here's what you need to consider:
When and how often you're repaying the ambassadors
Payment method: money, goodie bags, exclusive invitations, first dibs
Result indicators
These rewards should keep your ambassadors engaged. Therefore, you have to combine them with excellent communication and other insightful tools.
One of those tools is game theory. Various platforms use it to motivate your ambassadors through a mix of timely rewards, design particularities, and praises.
It's not enough to reward your ambassadors. You should also hook them.
That's why you should consider an operational team that takes care of planning and execution.
Besides, you don't want to forget about sending them their rewards, do you? Because if you lose trust and don't fulfill your promises, your ambassadors will leave.
inBeat is here to help. We already told you that our Tik-Tok and Instagram databases are free, right? Get in touch here.
Read next:
Brand Ambassador Program Examples
Instagram Brand Ambassador Program
How to Track a Brand Ambassador Program
How To Keep Brand Ambassadors Engaged
Brand Ambassador Program Examples
Brand ambassador programs are the new and improved use-a-celebrity marketing tactic. They help you build the face of your brand, thus making it more relatable to your audience. Here's why:
Brand ambassadors share a personal connection with your brand. When they become your brands' spokespeople, they build stories around your company. As this organic enthusiasm protrudes your audience's subconscious minds, more people will buy your products.
We'll discuss some brand ambassador examples below and the lessons you can learn from each.
1. Maybelline It Girls
Maybelline It Girls is one of the best examples of showcasing a compact team of brand ambassadors. These people share sincere opinions about Maybelline with their followers because they have direct experience with this brand.
Case in point: the New York Fashion Week.
Maybelline reunited essential brand ambassadors that fit with their brand and have high levels of trust:
Make-up artists
Models
Influencers
Here's why this strategy works:
1. Young women see glamorous models they resonate with.
One example is Victoria Kimani, a famous singer and songwriter from Kenya. She symbolizes equality, hope, and strong femininity in a world now defined by the BLM awareness movement. To this extent, her posts juxtapose Maybelline and #blackgirlmagic. Therefore, BLM supporters – mainly Gen Z – are more likely to buy Maybelline products.
2. Other tactics that support this strategy include regular posts about Maybelline and event photos. Maybelline features their ambassadors all the time, on its website, its social media, and so forth. Each ambassador speaks from their heart, making sure to connect the brand with its potential customers.
3. The brand's ambassadors receive a name. This strategy is powerful not just because it builds recognition. The name helps build an ideal, as more people want to become like these ambassadors. Besides, this name defines the Maybelline community with its stories and values.
But here's the crucial aspect:
When you're defining a community of loyal members, you're also separating it from outsiders. That way, you're:
Strengthening the feeling of belonging. Customers are less likely to choose another brand. They'll also become the voices of your brand as they build organic content.
Increasing the outsiders' need to become part of your brand. This higher demand makes your brand wanted but also exclusive.
2. Mogo.ca Brand Ambassador Program
Mogo employs micro-influencers to advertise their Bitcoin-related products and other services. Inbeat Canada helps Mogo with its brand ambassador programs. Creators like Carter Sullivan have a loyal following of young adults interested in budgeting, finance, and lifestyle:
Mogo knows that Millenials and Gen-Z are more likely to take an interest in Bitcoin. The bias against these generations is that they're irresponsible when it comes to financing.
Here's what you can learn from the Mogo Ambassador Program:
1. Become your audience's number one supporter. Mogo becomes a supporter of their audience by admitting that, although young adults may have different priorities, they lead organized lifestyles.
2. Use trustworthy micro-influencers that connect to their audience. Carter Sullivan relates to her audience because she knows financial education is limited in high school.
The Mogo app has lots of learning resources on sustainable spending. All these tidbits of information are simple and easy to access, exactly what young adults want.
3. YouTube is an excellent medium for showing how your product works. For instance, Carter Sullivan discusses how Mogo helped keep her credit score up. Plus, she did that without cutting back on so-called "unnecessary expenses," such as coffee dates.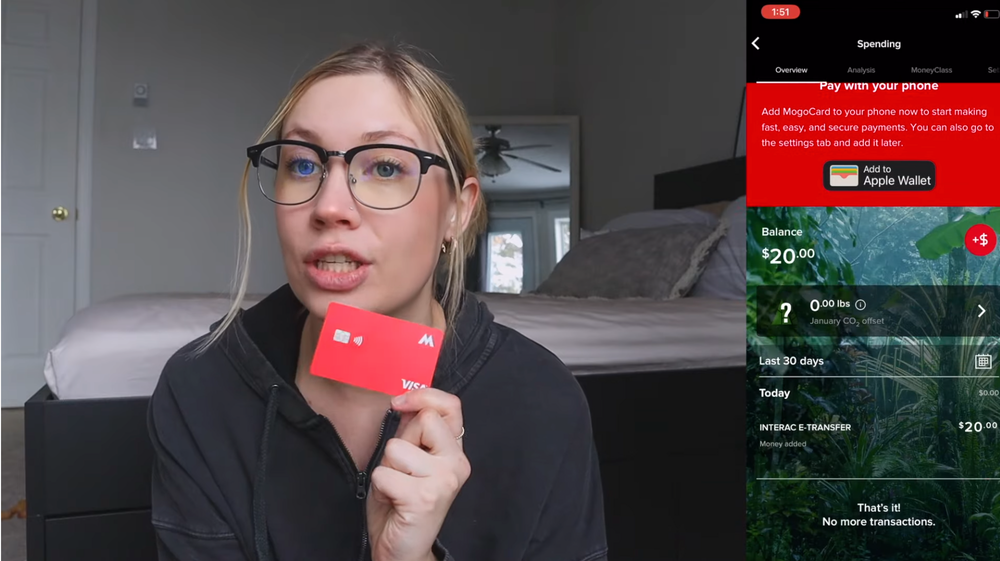 4. Videos convey emotions through verbal and nonverbal cues. Micro-influencers on platforms like YouTube can attract more paying customers thanks to their display of emotions because:
It's easier to disagree with written text because your brain only perceives information. Thus, it operates at a rational level.
Emotions operate at a subconscious level. If you're mirroring the speaker's emotions, you feel what they feel. So, you're more likely to experience certain products or brands the same way they do.
Carter Sullivan is very expressive when discussing Mogo. She uses ample hand gestures and widens her eyes to punctuate information. Carter also says "love" frequently when talking about Mogo apps' services.
5. Associate your brand with an essential issue in your audience's life. Young adults are interested in topics like global warming, so they support eco-friendly brands. That's why Carter Sullivan explains how Mogo can help people reduce their carbon footprints.
6. Give something back to your customers. Have your brand ambassadors explain all the things that your audience gets. Work on Maslow's pyramid:
Physiological needs: Mogo promises free $5 to buy sats when you register, plus Bitcoin cashback when transacting.
Safety needs: Mogo keeps your spending habits in check so that you can avoid debt.
Belongingness: Improving your spending habits helps you spend more quality time with friends. Besides, you're a responsible global citizen because you're helping reduce the Planet's carbon footprint.
Esteem needs: Mogo's customers benefit from personal improvement through financial education.
Self-actualization: You're becoming a better person through your improved habits and knowledge.
3. Amex Brand Ambassadors
Amex brand ambassadors show Instagram users how to use American Express services. The strategy is to speak to as many audiences as possible. Thus, American Express uses micro-influencers from all industries.
But here's the gist:
Everyone needs a credit card. Whether you're a teacher, business owner, or globetrotter, you need the best offers.
Amex ambassadors' Instagram posts work because they emphasize usability. For example, Julia Engel is a popular micro-influencers known for her travel and fashion advice. Her ambassador posts discuss the advantages of Amex Platinum when traveling abroad.
Here's what you can learn from this example:
1. Employ micro-influencers that use your brand because they have first-hand experience with it. They can show your audience how your products work in all possible situations.
2. Make sure micro-influencers deliver valuable insights. Your audience wants to understand your product's competitive edge.
3. Brand ambassadors should discuss how your products can meet your audience's core needs. People don't care about why your product is excellent. They want to see how it's excellent for them.
4. Images have powerful rhetoric. Mediums like Instagram or YouTube juxtapose text and image, thus imbuing emotions into your narrative. The old adage "seeing is believing" gains new connotations in today's world.
4. The North Face Brand Ambassador Program
The North Face uses prominent names in outdoor sports. People like Ashima Shiraishi, Rory Bosio, and Juan Martinez are record-setters, but they have something else in common:
They're relatable.
For example, Rory Bosio was unknown until she won the 104-mile race around Mont Blanc. Juan Martinez immigrated from Mexico, where his poor life helped create a powerful connection to the environment.
So here's the lesson:
1. Choose relatable ambassadors that can personify your brand.
You can do that if you deconstruct your brand on dimensions like:
Mission and vision
Values
Objectives
2. Remember that the purpose is to find your brand's archetype. Next, choose brand ambassadors that represent facets or different personalities of this archetype.
Notice how North Face's ambassadors:
Come from modest backgrounds.
Are used to living challenging lives.
As a result, they:
Crave to push their limits.
Feel wholly fulfilled outdoors.
Have a real need to share this feeling with their audience.
3. Go back to the origins to find the right storytelling tactics. Once you get relatable micro-influencers that personify your brand, finding the right platform is easy.
For example, The North Face ambassadors use:
Documentaries
Podcasts
Interviews
These instruments are powerful because North Face's audience doesn't just want pretty sports clothes. They're passionate about the outdoors, and they want to connect with nature.
The North Face quenches their thirst for adventure with man's earliest solution: stories.
5. Phone Loops
Inbeat also set up phone Loops' brand ambassador campaign. This company's product, aka the straps that attach to your phone, address an essential issue:
Unlike old Nokia models, smartphones break when they fall.
So, whenever you choose a brand ambassador, make sure their content emphasizes your brand's essential promise. Repeating this promise is a reliable strategy because:
Your brand gains notoriety.
The recall is faster and easier.
People start believing what you're saying.
Here's why repetition's main rhetorical result is instilling belief:
When people first see or hear something, they may be wary. If lots of people use that product, it becomes ordinary. Next, if trustworthy micro-influencers recommend that thing, it becomes desirable.
So, the Phone Loops primary lesson is:
If you have a new, innovative product move your audience on these levels:
Wariness → acceptance → want
Phone Loops Instagram strategy was to showcase micro-influencers using their product in lots of everyday situations, such as:
In planes' bathrooms
On boats
In moving cars
Taking selfies with their families
You can see hundreds of such pictures and videos. Brand ambassadors recommend this product, with excellent insight into its uses.
Most importantly, micro-influencers share relatable problems that Phone Loops helped solve.
Here are other lessons from Phone Loops if you have an innovative product:
Explain how it works to dispel wariness.
Show your brand ambassadors using this product in various situations to build acceptance. Make sure to get lots of ambassadors, too. For example, Inbeat hires 100+ brand ambassadors for Phone Loops each month.
Try an online game or dare to instill want. For example, Phone Loops has the "selfie game."
The brand ambassador examples above work because they employ several tactics to build a loyal audience.
Martin Lindstrom discussed this over a decade ago when he compared brands to religion.
This comparison may seem exaggerated, but you can notice some of its points in the strategies we discussed above.
One example is building an archetype for your brand. Your brand ambassadors are not only your voices; they personify your values – that's what Carter Sullivan did for Mogo.
Another example is building a common narrative through various "legends." North Face does that each time it publishes another one of its athlete's stories. Customers identify with these legends and create their own.
Giving a name to your community of loyal followers is also crucial to create a sense of belonging to a group. That's what Maybelline does with its "Maybelline Girls."
But there's one other thing to remember:
Choose the right channel to communicate with your audience.
In the next section, we'll tell you how to build an Instagram brand ambassador program.
Read next:
Instagram Brand Ambassador Program
How to Track a Brand Ambassador Program
How To Keep Brand Ambassadors Engaged
Instagram Brand Ambassador Program
Instagram brand ambassador programs are efficient strategies that can increase your brand's awareness, reputation, and ROI. The catch is that you have to use them wisely.
In this section, we'll help you craft a useful and fun Instagram brand ambassador program. We'll discuss where you can find influencers, how you can build a loyal community, and what mistakes to avoid. Read along!
How Do I Find Brand Ambassadors on Instagram?
Finding brand ambassadors on Instagram can start with browsing your list of followers. Ask yourself these questions:
Who is always commenting, sharing, and liking your content?
Loyal followers are the voice of your community. They mobilize others because they believe in your brand.
Here are some factors to consider:
These followers have to be active on social media.
They have a natural flair for engaging others through funny or insightful content.
They're charismatic.
Their personality is similar to your brand's archetype.
Their followers are relevant to your brand's audience.
Hopefully, these people have a few thousand followers already. Also, check their engagement indicators, such as the number of likes, comments, and reposts.
That way, you can ensure:
They'll popularize your brand.
They'll funnel more paying customers towards your brand.
If you're going through a PR crisis, they can change customers' minds about your company.
But there's a problem.
Instagram is ripe with scams and fake accounts. Before choosing an influencer, learn what mistakes to avoid.
Pro tip: Loyal customers become excellent brand ambassadors, even if they're not currently influencers. For example, Transferwise converted its users to ambassadors without orchestrating any program.
Here's how you can find more brand ambassadors:
Use an online platform such as BuzzSumo, FameBit, Onalytica, and Upfluence. These tools allow you to analyze influencers' profiles and connect to relevant people.
Mingle and connect at local offline events or conferences.
Use Yelp, Yellow Pages, and LinkedIn.
Use Instagram Geotags. We explain how to do it here.
Contact an effective influencer agency, like Inbeat.
How to Build Your Brand Ambassador Network on Instagram?
After narrowing down a list of relevant potential brand ambassadors, e-mail or call them.
Tip: Some influencers may be the first to get in touch with you. However, this only happens when the brand is already active on social media and influencers see other viral posts or hashtags.
Here's a frequent mistake most companies make when contacting potential brand ambassadors:
They talk endlessly about why their brand is excellent. Next, they start offering all sorts of freebies.
We're not saying incentives are inherently wrong, but they can alienate valuable influencers when you're pushing too hard. Instead, try this:
Ask potential brand ambassadors for feedback on your brand.
Tell them why they'd be a valuable partner for your company.
Explain how you can help each other out. It is the part where you talk about discounts, deals, special offers, etc.
Surprisingly, that's the easy part.
The hard part is to build your Instagram network. Imagine your brand ambassador program as a train. The carriages click with each other and pull in the same direction at once.
So, make sure you're the glue that binds your community of influencers. You can organize online and offline meet-ups, but the crucial element is planning.
We'll discuss that below. But first:
What Should You Include in the Brand Ambassador Agreement?
Your brand ambassador agreement should include:
Exclusive rights to prevent your brand ambassadors from advertising your competitors' products
Repurposing rights to reuse their content at anytime
Expected results accompanied by precise guidelines
Schedule with transparent deadlines
Non-disclosure agreement
The approval process to make sure the influencer requests your approval before posting on Insta
Legal responsibilities to clarify that you're not liable if the influencer commits a crime while being your brand ambassador
Payment procedure to specify details about payment, such as dates, quantum, and conditions
You can either sign a printed document or an online one through tools like:
How to Create a Fun Brand Ambassador Program That Works?
A fun brand ambassador program that works starts with probably the least fun thing in the history of fun things, unless you're Sheldon Cooper. And that's planning.
Think of it like this: you want results.
But you have to know which results your company needs. That's why you draft precise goals, strategies, instruments, deadlines, and all the other things they teach in marketing school. We bet you also know how to define your audience, how to make a SWAT analysis, and how to assess your competition.
How do you make things fun?
Focus on your customers' needs and learn what motivates them. Then, keep them engaged with:
Posts that raise their curiosity
Inspiring stories about influencers' ups and downs, how they found their motivation
Behind-the-scenes posts. Who doesn't want to see their idol getting out of bed with messy morning hair?
Original content from fans
Competitions, giveaways, and challenges
Polls and debates
Prizes or certificates for top followers
Sharing tips and tricks about your product
Using your product in innovative ways
Roasts
Talking about hardships and how the influencers overcame them by using your product
A day in your brand ambassador's life
Just make sure the instruments you choose are relevant for your brand and the current campaign. If they fit your strategy, they'll bring in more results.
Pro tip: Don't forget to feature these stories on your website and arrange them in categories on Instagram.
How to Get Ambassadors to Post
Brand ambassadors aren't free, but paid influencing is still stigmatized. That means you're walking a fine line between building credibility and becoming a company that buys its good reviews.
Monetary commissions aren't necessary, though. You can get ambassadors to post with:
Free products or discounts
Exclusive deals and tries
Gift bags or gift cards
Events and parties
Pay-per-click programs
As you can see, you need to be well-organized. Google Sheets, Mail Chimp, or similar programs will help you keep track of influencers' posts.
You can also try programs like CrewFire to engage and reward your brand ambassadors.
These platforms give you all sorts of tips on how to entertain your influencers. You'll notice various features that keep your brand ambassadors captivated, primarily through praise features and mini-rewards.
However, if those dopamine-releasing tricks are your strategy's cornerstone, you're doing something wrong.
External motivation only works to some extent. That's why you need relevant brand ambassadors who will be loyal to your brand.
Read next:
How to Track a Brand Ambassador Program
How To Keep Brand Ambassadors Engaged
How to Track the Results from Your Brand Ambassador Program
Tracking results is crucial to ensure your Instagram campaign reaches its potential. Centralize the metrics below in a spreadsheet:
Number of posts regarding your brand
Number of likes per post
Number of Instagram comments
Additional traffic to your website via links on influencer's bio
Increase in sales
Promo codes
Post URLs
Here are some tools you can use:
Google Analytics
Mid-campaign questionnaires and surveys
End-campaign surveys
Read more on how to track your BA program here.
Examples of Best and Worst Brand Ambassador Programs
Some famous brand ambassador programs include:
North Face Athletes. These micro-influencers empower exploration and self-improvement. They connect with their audience through interviews and podcasts.
Mogo.ca. The campaign speaks to young adults who want to take charge of finances. The app has various resources for sustainable spending, plus free perks.
Starbucks. Its university mobile tour generated increased brand awareness. The results included 677,000 more direct social engagements.
Phone Loops. Inbeat concerted a slew of Instagram micro-influencers that popularize the phone loops invention. As this gadget is a new idea, the first step is to accustom people to it. The second is to make it desirable.
Canon's Explorers of Light. Canon partnered with professional photographers to advertise their products. Then, it started throwing people off airplanes in a swift advertising move that won them the limelight.
Of course, the list can go on.
But here's what happens when you do things wrong:
The Kendall Jenner - Pepsi fiasco. If you're going to tie yourself with a massive movement like BLM, make sure your brand ambassador is an archetype of that movement. Otherwise, people will boycott your products.
Katie Price, aka Jordan, and Snickers. The "You're Not You When You're Hungry" campaign had model Katie Price's post about socio-economic-political matters out of her area of expertise. While some customers complained about misleading ads, others noticed anti-feminist practices when the marketing ploy came out.
Scott Disick and BooTea Shake. The TV personality copy-pasted the marketing instructions on his Insta, showing his lack of loyalty to the product.
Chriselle Lim and Volvo. Some critics claim her posts are too staged and focused on Volvo's product. Other people claim that Volvo's an emission-free car and that Chriselle is endorsing the brand for money.
Raline Shah, Miguelina Gambaccini, and the California Fires. In 2018, Raline Shah used hashtags and keywords related to the California fires to get more clicks for the brand she was promoting.
Key Takeaways
Brand ambassadors generate original content about your brand on Instagram. This content helps you strengthen your connection with existing customers, gain new ones, or solve image crises.
Well-chosen Instagram influencers are trustworthy, engaging, and insightful. However, you need to plan your campaign to a T. We discuss more about that here.
This section analyzed how to pick the right influencers, your contract's terms, and practical strategies. We also discussed stellar brand ambassador programs and massive failures.
If you need more help, inBeat is just a click away.
Even if you saw how useful a brand ambassador program could be for your company, you may still be wary of it. Some marketers avoid trying these programs because they think measuring their results is almost impossible.
But that's not always the case.
If you know what you're expecting and set quantifiable goals, you can easily track your brand ambassador program's success.
We'll tell you how in this next section.
How to Track a Brand Ambassador Program
Most marketing manuals are relatively vague when it comes to tracking the results of your campaign. Luckily, you have a lot of useful tools and programs to help you get started.
But first, you have to make a sound plan. In this section, we'll show you how to make that plan, we'll share useful tips, and we'll talk about the best tracking tools. Read on!
Set Brand Ambassador Program Goals and KPIs
Measuring the results of your marketing campaign is not something theoretical. You have to compare those results against something: your goals.
Once you have your goals straight, you can set up key performance indicators that evaluate your performance against your purposes.
If you're an online marketer, you know that increased website visits are completely different from more newsletter subscribers. Both tactics should ultimately improve your ROI but through distinct routes.
Those routes translate into unique follow-up campaigns.
That's why you have to be very specific and realistic about your goals. Make sure your brand ambassadors commit to reaching your campaign's objectives.
Depending on your campaign's purpose, here are the indicators to consider:
Reach: the number of people who've seen your relevant messages
Traffic: the number of people actively engaging with your website and participating in events
Revenue: more money brought by the brand ambassadors' contribution
Social media: new posts with your current hashtag
Content: number of social media messages generated by your brand ambassadors
Engagement: the number of likes, comments, and shares of your posts
Brand ambassador participation: the number of influencers who are actively sharing your content
Best ambassadors: influencers who have shared your content massively. Reward them with incentives
Worst ambassadors: influencers who haven't shared your messages. Find a way to mobilize them or set them loose
Our Top Tips for Tracking Brand Ambassador ROI
1.  Evaluate your current position. That means you should know:
Customers' sentiments about your brand
Purchasing habits
Your target audience
What sets your brand apart from your competitors
2. SMART Goals. Our best advice is to be precise about your objectives and goals. Double-cross these with specific strategies. Ensure your goals are easy to track in a particular time frame.
3. Adjust your goals depending on your audience. Distinct groups will react differently to the same campaign, and you have to foresee these reactions. That way, you can set appropriate goals for each of them.
These two tips can sound a little abstract. Let's take an example:
Say you have a wild animal shelter, and you need to increase donations in six months. Thus, your ambassador campaign's objectives look something like this:
Increase reach by 20% within five months. Have a schedule ready for the influencers.
Have 20 influencers post messages for loyal customers. Each influencer should post one time each day.
Have 20 influencers post messages for people who don't know about your brand but tend to support social causes. Each influencer should post two times per week.
Increase monthly donations by 30% within six months.
Of course, your brand ambassadors' messages can be about a contest, free tours for kids, or other incentives. However, you have to ensure your specific objectives serve your campaign's main goal.
4. Use loyal customers to increase your ROI. If you want to get more revenues, get loyal customers to promote the products they already love. You can find them with tools like Upfluence Live Capture. The key is to ensure their posts are leading to more conversions.
How to Measure Brand Awareness
Brand awareness sounds very theoretical, but it's not hard to track it if you know what indicators to use:
Social media engagement evolution. This indicator shows how your audience interacts with your brand after the campaign is over. Are you getting more likes and comments? These online supporters are tomorrow's customers.
Brand ambassadors' content performance:
Increased organic displays of their posts within social media show a broad reach
Sufficient likes, shares, and comments to posts regarding your campaign
Views
Shares
Clicks
New followers
Organic participation. If your campaign is user-generated, you should count the number of tags or hashtags
Here are some tips to increase and evaluate brand awareness:
1. Encourage your customers to share photos on Instagram after buying your products. Repost these photos with your brand's unique hashtag. This tool allows you to track awareness easier, but it has another advantage: you're building a cohesive community of customers.
2. Build a giveaway program. Have your brand ambassadors funnel more people to your social media accounts with this giveaway. Track new followers to assess awareness increase.
3. Start a brand challenge with a specific hashtag. Make sure this campaign feels exciting and inspiring to people. Afterward, track and count new posts about your brand.
Track Sales to Measure Your ROI
You can track sales by using these tactics:
Personalized promo code. Keep track of how many sales there have been with these codes. Remember that customers have to visit your website to check out products and to fill in the code. Thus, you'll know how many sales resulted from each ambassador.
Pro tip: Use Shopify integration tools to generate and assign these codes.
Personalized affiliate links. Each brand ambassador will have their URL to your website's landing page. Unlike promo codes, affiliate links take customers directly to your landing page. This strategy tells you:
The number of visits from all affiliate links
The number of conversions generated through each link
The number of people visiting  your website after clicking on a particular link and then not purchasing your products. This metric is crucial because it tells you where you could be making improvements
Pro tip: Personalized affiliate links work for apps and SaaS too. Give your brand ambassadors unique links to share with their followers. Track your campaign's success by counting how many app downloads or SaaS sign-ups you've got with each link. Don't forget to assess how many clicks on your affiliate links ended with no purchase.
Want to learn how to use brand ambassadors for your app? We've got you covered here.
What Tools Can You Use to Track Your Brand Ambassador Program?
There are many tools for brand ambassador tracking, but not all are created equal. Choose according to your purpose because some tools specialize in social media, while others combine several services. Similarly, you can find specific measuring tools for unique channels, like Instagram.
Before choosing your tracking tool, consider:
The channels you're using
How intuitive the tool is
The analytics it uses
The insights you're getting
Other services included in the app (e.g.: managing your entire brand ambassador program)
Instagram tracking. The Instagram analytics tool is one of the best manual programs that keep track of your influencers' performance. You can read an in-depth article about it here.
Google Analytics. If you want to get website traffic from a new market, use Google Analytics to evaluate referral traffic from a specific country.
InBeat tracking software. This software monitors engagement and media value for all your brand ambassadors' posts. It's efficient and easy, and we're not just saying that because it's ours. We're getting that input from our customers.
Brand24 is another popular tool because it assesses information from several platforms, including hashtag search and mentions. It gives you an influence score and helps you engage with other people from your industry.
BrandChamp.io is one of your best options for manual tracking of your KPI. This tool allows you to lay back and relax while it does everything you need automatically.
SocialToaster. This tool gets your ambassadors curated brand content. Of course, you can opt to share it manually or automatically. SocialToaster helps you build your online community and keep track of your progress. Its reporting strategies are top-notch so that you can identify useful insights into your customers' purchasing habits.
CrewFire. This tool is best if your brand ambassadors are mainly active on social media. CrewFire has an efficient SaaS platform that will monitor and manage your influencers' posts.  Their analytics are top of the notch, so they combine this data with information data from individual reach.
In Conclusion
In this section, you found out how to track your brand ambassador campaign. You now know the importance of defining specific goals and how to set your KPIs. You learned how to use those indicators to track campaign goals like brand awareness and increased revenues.
But you can't do all that managing and measuring without the right tool. You'll delve into mountains of data, and you need to interpret them carefully. Otherwise, your campaign is more likely to fail.
Brand ambassador programs work. Craft your strategy wisely, and you'll reap the results.
Need more help? Try inBeat now for free.
How To Keep Brand Ambassadors Engaged
Keeping brand ambassadors engaged is an essential part of your program. Arguably, it's the crucial piece of your puzzle because only motivated people can bring in the right results. Otherwise, even the most stellar campaign plans can fail.
So how do you do that?
We'll discuss seven excellent strategies and share incredible life lessons picked up from major brand campaigns.
Keep reading!
Recognize Achievements
Recognizing someone's achievements is essential to keep them motivated. Otherwise, your brand ambassadors will feel like they're undervalued or not good enough to be part of your team.
The first step to recognizing your ambassadors' achievements is personally sending them a message or e-mail. Congratulate them, but also ask them how they did it. Their experience and feedback could be valuable for other ambassadors.
Another good idea is to link to their work on your website and social media.
Ask your brand ambassadors to use campaign-specific hashtags. This strategy creates a cohesive community around your brand and links you to it.
You should also take photos with them at company events, instead of ignoring them. But that's just common courtesy.
Here are two things you might not have thought about:
Give them a shout every time they do something unique that's unrelated to your brand. This way, you're showing your appreciation to them as people, not as your influencers.
Show your recognition before they do anything for you. You can drop them a line or ask them what they think about your brand and products. If you strongly believe that you're going to have a powerful, long-term connection, announce your relationship publicly.
Lululemon is an excellent example of what we've discussed above. This brand dedicates a section of its website to its influencers, plus it organizes annual events in their honor.
Offer Them Special Deals
Brand ambassadors are your brand's voices, so, logically, they should have first dibs at special deals. For instance, you should let them be the first to try a new product or app.
Carter Sullivan for Mogo is a fantastic example of first dibs at a new product feature. You can watch her video discussing the new Mogo's Platinum Visa Card here.
As you can see, Carter is very passionate about Mogo. She loves the way their card looks, and she also enjoys their perks.
As Carter got the first try of their Platinum Visa Card, she knows exactly why this card is useful. Therefore, she explains to customers how this card can help them budget more sustainably and get out of debt faster.
But here's the gist:
Carter made this video after receiving several questions from her followers regarding specific budgeting techniques.
As a result, Mogo's Platinum Visa Card swoops the limelight as the best answer to their questions.
Send Them Care Packages
Care packages show your brand ambassadors that you care about them. You might think this strategy works best if you have a beauty brand or flower shop. In this case, it makes sense to offer your brand ambassadors skin lotions and flowers.
But what if you have a gas station brand? Or you're selling light bulbs?
You have to get creative. Even a cup or a T-shirt work as birthday presents, for example.
Don't forget to celebrate the essential times in your lives:
Birthdays
The day when you first signed the contract
The day when the brand ambassador's post first came out
The most embarrassing post or photo – remember it fondly and with a sense of humor, celebrating it as a life lesson
Of course, care packages are also good ideas:
After a major win
After a major loss
When your brand ambassador feels overwhelmed or not performing as they should
Treat Them Like Family
Under Armour is an excellent example of how to treat your micro influencers like family. After a challenging period between 2016 and 2018, Under Armour signed Dwayne Johnson, aka The Rock.
You all know The Rock. He's charming, buff, and an amazing dad. He's an excellent face for Under Armour, a brand that relates to the ordinary guys and girls who love exercising.
But Under Armour did something else that's amazing: this brand created a new product, especially for The Rock. We're talking about wireless headphones that won't slip out of your ears when you're exercising.
Basically, Under Armour took its relationship with The Rock to a new level, making him part of its creation process.
You don't have to make your brand ambassadors co-creators, though.
Maybelline is another terrific example because it shows you the power of using names. This brand names its customers "babellines," while all its brand ambassadors are "Maybelline Girls."
So how can you treat your brand ambassadors like family?
Involve them in the creative process. Ask for their input and feedback.
Show them off on your website and when you're meeting face to face.
Keep them in the loop.
Give them a name that makes them feel special and part of the family. You can give them a similar name to your brand or current campaign, but using hashtags is a good idea too.
Create an Inner Circle
The Adidas Originals campaign is an excellent example of creating an inner circle. But first, what do you think is the main advantage of this strategy?
You could think it's building cohesion and loyalty because you're creating a group.
However, research shows that creating outsiders is even more critical. Those outsiders help define your "inner circle" through contrasts. Besides, every outsider will want to become a member of your exclusive group.
Cue Adidas Originals with their limited edition shoes. These shoes are region-specific, and Adidas markets them with local influencers. As a result of using pop counterculture, Adidas breathed new life into its classic array of products.
And, just like you would expect, Adidas is flooded with requests from people who want to become their influencers.
Gamification & Incentives
Use an online tool to keep your brand ambassadors engaged, such as CrewFire, BrandChamp, or Influitive's AdvocateHub. These tools ensure that your brand ambassadors feel rewarded and entertained. As a result, they help you build a strong connection with these micro influencers.
Sounds too good to be true?
It's all about science, particularly game theory. These platforms follow specific algorithms to give influencers incentives at precisely the right moment.
Therefore, your brand ambassadors will feel motivated to continue working for more perks and mini-rewards. These platforms are as addictive as gaming, for instance, because each time you slay a monster, you get a mini-reward.
These mini-rewards trigger dopamine releases in people's brains. As a result, your brand ambassadors will tend to stay hooked to the platform to get that next dopamine rush.
Or even better:
Try a micro influencers agency like inBeat for that special human touch.
Keep Them Independent
Juan Martinez for North Face is a remarkable illustration of how independent micro influencers benefit your brand.
In fact, North Face's entire athlete program fits this bill because their brand ambassadors are born in challenging environments. As such, these people want to push their limits to overcome their condition.
Each time they break another record or do another daring feat outdoors, these people feel a sense of fulfillment.
North Face's audience craves the same feeling of exhilaration. Therefore, maneuvering its ambassadors like puppets would be a damaging strategy for North Face.
You can use this strategy to:
Let your brand ambassadors have their own stories to show your support.
Publicize those stories to show you're proud of your brand ambassadors.
Use these stories to build legends around your brand and your brand ambassadors. As a result, more people will want to be part of your family.
Allow your brand ambassadors to come up with their ideas about new posts.
Take your brand ambassadors' opinion into account when it comes to new product features.
Connect your audience to your brand ambassadors through podcasts and interviews.