Influencer marketing is one of the most effective ways to tell your brand story to the right audiences. But, the world of influencers is hard to navigate alone. To maximize the ROI of your campaigns, you need to select the top 20 influencer marketing agencies 2021 that will set you up for success.
In this article, we will explain what an influencer marketing agency does and review the best agencies in 2020.
What Does an Influencer Marketing Agency Do?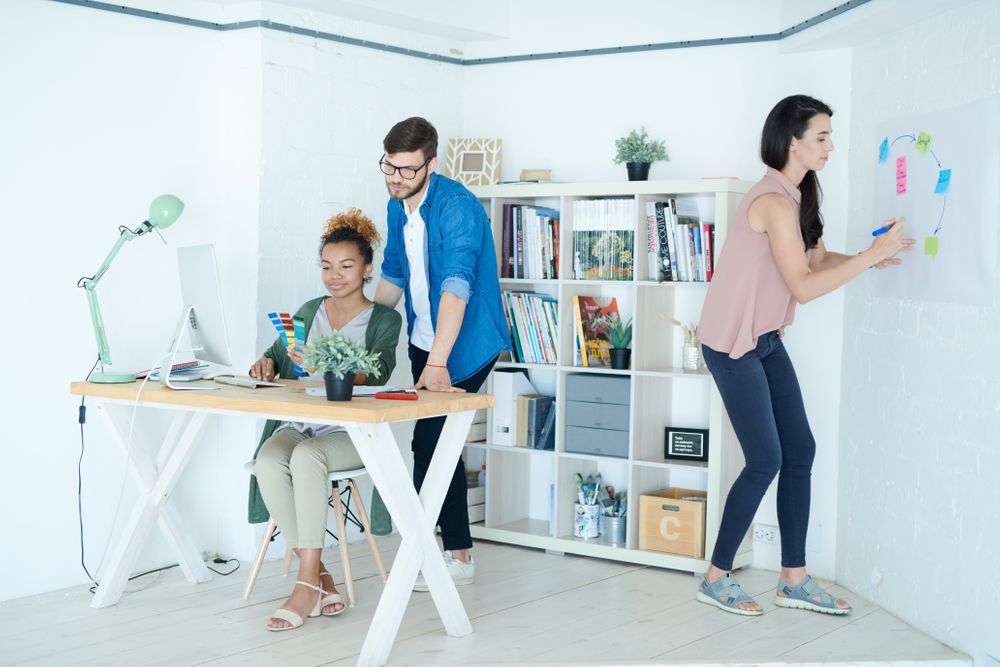 Influencer marketing campaigns are complex and challenging to plan and execute. Successful campaigns have many variables. They include optimization, vetting, structuring, contract negotiations, content reviews. These variables are hard to manage without relevant experience and resources.
Influencer marketing agencies work together with brands to plan, execute, and manage influencer marketing campaigns. Top influencer marketing agencies have close relationships with the leading creators. They know how to find the right influencers for your brand with proven success and a history of quality performance. Agencies negotiate rates, contracts, review content, report on campaigns. They act as a central force in maximizing influencer collabs' ROI.
How to Choose a Top Influencer Marketing Agency?
Research agency's past campaigns, what brands and influencers they worked with.
Reviewing their clients' portfolio and track record will help you determine if the agency has the experience to run a successful campaign. Ask for relevant case studies and analyze the influencers an agency works with. Some agencies specialize in collaborations with celebrity influencers. As a result, they charge very high fees for their service. Smaller brands looking to reach highly targeted audiences should instead consider working with agencies with an extensive micro-influencers network. They have higher engagement than celebrity influencers and will keep your campaign spend low.
Understanding what type of campaigns and influencers the agency is comfortable with will allow you to evaluate the agency's capacity to deliver the best results for you.
Understand their work process and how transparent they are about the strategies they deploy.
Top influencer marketing agencies can explain in detail how they handle new campaigns, including their criteria to select influencers and platforms. Agency must clarify how they measure a campaign's success and which metrics they use to evaluate the ROI. Pay attention to tangible benefits, such as increased follower count, website traffic, leads, and conversions.
Check the quality of tools to run and measure your influencer marketing campaigns
Top influencer marketing agencies do not act only as middlemen between your brand and influencers. They offer sophisticated modern tools to communicate with influencers, process payments, access real-time campaign reports, and optimize performance. These tools allow you to measure the success of your influencer marketing campaigns against your KPIs. Avoid agencies that are unable to quantify and demonstrate specific campaign metrics.
Top 20 Influencer Marketing Agencies 2021
To help you choose who to partner with, we've put together a list of top 20 influencer marketing agencies. We focused on full-service agencies that assist brands through every stage of the campaign. From influencer discovery and vetting to reporting and analysis.
Top Influencer Marketing Agency #1: InBeat.agency
InBeat Agency is specialized in running complex, highly targeted campaigns and has a network of over 16,000+ micro-influencers. Our in-house creative director works closely with each customer to craft unique and fascinating content to boost your brand's engagement. InBeat Agency has experience working with diverse industries: from Mobile Apps to Fashion and DTC brands.
For us, it is essential to understand your needs, so we dig into the story of your brand and your motivations before starting the campaign. We have a transparent pricing model, no hidden fees, and tailor campaigns that suit every budget.
InBeat works with you to design a tailor-made marketing strategy for your brand and generate the highest ROI from your influencer marketing efforts. Our exclusive technology and in-house expertise give us access to the resources necessary to run successful campaigns.
One of the most significant advantages of working with inBeat is that you maintain full control over the influencers' selection process. You will approve or reject them before starting a collaboration and will never work with influencers that you find unsuitable. Our goal is to ensure that every influencer involved in the campaign is right for you. As a result, you get to co-create authentic content both for your brand and the influencer.
Top Influencer Marketing Agency #2: Influencer Marketing Agency(IMA)
IMA are industry pioneers that began working with influencer marketing campaigns in 2010. They have offices in Amsterdam and New York and run influencer marketing campaigns globally. They design custom strategies and have an in-house production team to offer hands-on campaign execution.
IMA is one of the largest influencer marketing agencies. They work with the leading brands and top social media influencers and content creators. So be prepared to spend more than with a smaller agency.
Top Influencer Marketing Agency #3: Billion Dollar Boy
BDB is one of the largest influencer marketing agencies in North America today. They have offices in New York, New Orleans, and London. As the name suggests, their primary focus is on marketing to male audiences. They have a network of 4000 influencers in male-oriented niches, like gaming, technology, sport, and health and fitness.
With a handful of influencer marketing tools available on request, they can help you manage your campaign more effectively. What's more, they have a campaign management platform, MatchMaker, where you can pull a list of influencers that participate in your campaign and review their content before submission. BDB works with prominent brands and celebrity influencers in various categories. Including fashion, retail, beauty, and consumer goods. They offer in-house studio services to create unique campaign assets.
Top Influencer Marketing Agency #4: Kairos Media
Kairos Media was founded in 2015 by a former YouTuber and a formed director of Machinima. They used their industry expertise and built a solution to help brands expand their reach and tap into new audiences. Their main customers come from industries like Gaming, Travel, Parenting, Esports, and Fitness. Their primary focus is to produce unique, attention-grabbing content that entertains audiences and tells a brand story creatively. Kairos Media focuses on data to ensure that they target the right audiences, excite, and convert them.
Top Influencer Marketing Agency #5: SugarFree
Sugarfree is a relatively new influencer marketing agency compared to others on our list. However, they have already executed some major multi-national campaigns. This agency does more than just influencer marketing. They are specialized in content marketing and plan the entire content strategy for your campaign. SugarFree team conducts comprehensive research about your brand values and makes sure that the influencer content aligns with them.
One of the biggest campaigns they managed was helping TikTok launch in the US and Europe.
They work with all kinds of influencers from micro- to macro- and execute campaigns on various social media platforms.
Top Influencer Marketing Agency #6: AmericaNoize
AmericaNoize was founded in 2017 by two Italian-born photography producers. They have built their careers in photography alongside haute-couture brands and celebs. Thus, AmericaNoize addresses international luxury brands like Hugo Boss or Toyota and works with high-tier influencers like:
Monica Bellucci
Al Pacino
Natalie Portman
However, this agency can represent unpretentious brands as well. For example, AmericaNoize also worked with non-premium brands like McDonald's.
Another advantage is that this company specializes in addressing inclusion, sustainability, and wellness.
Their central promise is to increase your ROI by bringing more traffic to your website. That's why AmericaNoize uses relevant content and highly-optimized campaigns.
Their services include:
Selecting relevant influencers
Publishing the best content
Video/ photo ops
Top Influencer Marketing Agency #7: Carusele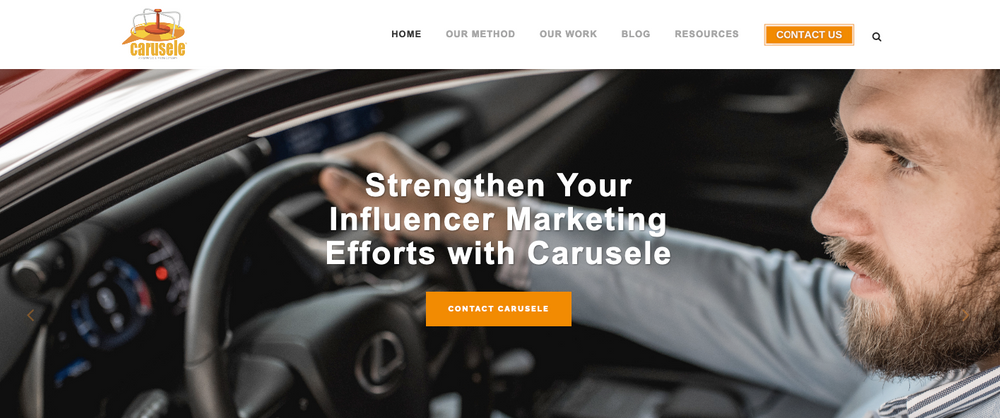 Carusele is an influencer agency that addresses your needs through personalized marketing campaigns. They will support you from designing to managing your campaign, with top results. That explains why Carusele received over 40 awards for their campaigns.
Carusele is an efficient agency because they're data-driven. This unique selling proposition translates into advanced metrics that optimize your campaign:
qStack™ Quality Rating: selects influencers that click with your audience
cStack™ Content Index: ensures your content is efficient
iStack™ Influencer Ranking: measures the influencers' results
Engaged Audience Profile™ Data: targets the right audience that converts
This advanced targeting and monitoring of your campaign ensures you reach a relevant audience. After engaging with your brand, they'll convert into paying customers quickly.
Top Influencer Marketing Agency #8: The Influencer Marketing Factory
The Influencer Marketing Factory is a budget-friendly agency that features end-to-end service packs. These start with choosing influencers fit to your brand's personality. The IMF will also mediate the relationship between you and your influencers. In the process, it will help build an optimized campaign and track the results.
The Influencer Marketing Factory has received stellar reviews and mentions in Forbes and BBC. Also, considering that mammoth companies such as Google and Hilton used its services, IMF is a worthy choice. They'll strengthen your brand through thorough research, content creation, and full-service campaign management.
IMF is successful on YouTube, Twitch, Instagram, and TikTok. Unfortunately, this agency isn't perfect because they have minimal penetration on LinkedIn.
Top Influencer Marketing Agency #9: Mediakix
Mediakix is one of the pioneering influencer agencies, with tens of thousands of sponsored placements. Although headquartered in California, Mediakix is a global agency.
This company believes that, in an overly-digitalized world, people crave authenticity and communication. So, their innovative strategies rely on building this authentic relationship with your audience. If you need some examples, look at their work for Uber, Nordstrom, and Hallmark.
Another advantage is that Mediakix has a hands-on approach to influencer marketing. Their campaigns start with a free consultation to identify your specific needs. Afterward, Mediakix will use optimized real-time data to build your campaign. They specialize on platforms like TikTok, YouTube, and Instagram.
Top Influencer Marketing Agency #10: Viral Nation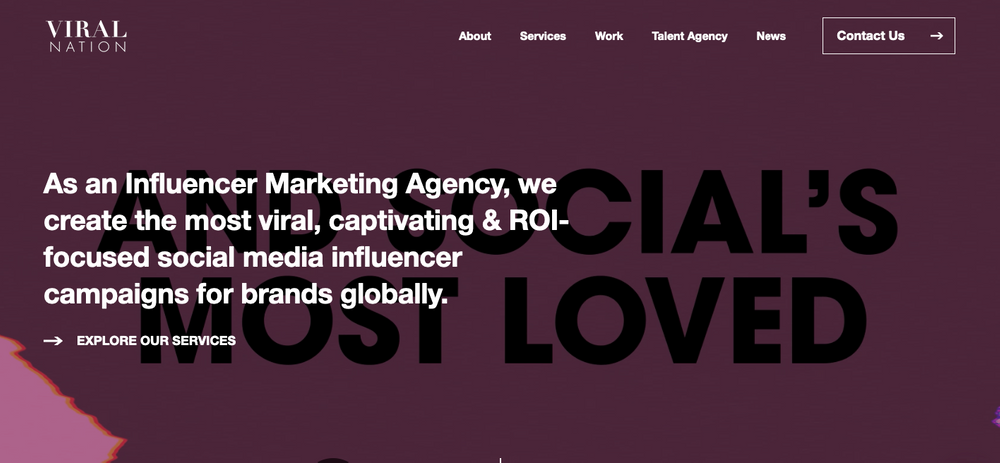 Viral Nation promises to make your brand part of popular culture. When customers perceive your company as intrinsic to their lives, they're more likely to choose you over the competition.
Viral Nation closes this gap between you and your customers through digital and social campaigns. Their plans cover all your needs, from integrated brand strategy to content creation and campaign execution.
That's why this agency has a 90%+ retention rate among its clients, which come from varied industries. For example, Viral Nation has connected top brands like Blizzard and Dunkin with impactful influencers.
Moreover, Viral Nation specializes in diverse platforms, such as:
Instagram
LinkedIn
TikTok
Twitch
Facebook
Mixer
Top Influencer Marketing Agency #11: Openinfluence
Openinfluence is an expert at finding the right blend between creativity and analytics. That's why they have 1000+ premium customers and feature headquarters in four countries. Besides, Forbes and Inc. featured their owners in "best 30 under 30" tops.
Here's how Openinfluence works its magic:
This company developed a proprietary platform, which combines well with two other secrets:
Industry know-how
Meticulous AI-based research
With a sprinkle of creativity, their storytelling rebuilds your brand image into a more relatable persona. The direct advantage for you will be increasing your ROI.
Top Influencer Marketing Agency #12: Obviously
Obviously markets itself as the leading choice for the "world's iconic brands." So, its promise is to turn your company into a symbolic reflection of society. Once they achieve this, the agency will embed your brands' image into the collective subconscious. The result: you get more customers.
Here's how they do it:
Obviously segments their database of 400,000+ influencers on demographics, interests, and aesthetics. This segmentation helps you choose the right influencer for your brand's personality. Additionally, you'll tap into a wider pool of social channels because Obviously has access to all popular platforms.
Thus, this agency gives you access to archetypal influencers that can change your audience's behaviors. Another advantage is that Obviously handles your entire campaign, on both digital and offline channels.
Top Influencer Marketing Agency #13: Fanbytes
Fanbytes is a unique agency compared to its competitors because its primary audience is Gen Z, a generation defined by contrasts. So, because Gen Z is challenging to target because it's tech- and people-focused, independent, and quite like its Gen X parents.
Luckily, Fanbytes uncovers this generation's inner mechanisms. Thus, the agency knows what drives Gen-Z towards their purchase decisions. That's why their specialists build effective marketing campaigns  on Gen-Z's favorite platforms:
Here's another advantage: Fanbytes bases its strategies on proprietary analytics techniques.As a result, you will match with the right influencer and get accurate performance feedback.
For all the reasons above, famous brands like McDonald's collaborate with this agency.
Top Influencer Marketing Agency #14: Audiencly
Audiencly prides itself in matching companies with influencers ranging across industries. Until now, Audiencly connected 5000+ influencers to various brands. To ensure higher campaign success, they give influencers access to its Creative Studios.
Besides, they offer a gamut of marketing plans that include:
Influencer marketing
Campaign strategizing
Lead generation
Organizing offline and online events
If you opt for influencer marketing, they'll help you decide on tactics such as:
Sponsoring
Brand merchandise
Events
But here's the gist: Audiencly specializes in gaming companies, such as IGG, Yoozoo, and Epic Games.
Top Influencer Marketing Agency #15: Top Rank Marketing
Top Rank Marketing is a reliable choice since 2001 if you have a B2B company. This influencer marketing agency features personalized, full-range advertising plans that employ practical tools:
SEO
Design principles
Conversion optimization
These techniques are based on quantitative and qualitative variables. The result is a straightforward funneling of your desired audience from potential customers to buyers.
TRM helps influencers connect to your audience with the right messages. Thus, the customers project this feeling of closeness to your brand.
That's why Top Rank Marketing is a popular go-to agency for stellar brands. For instance, TRM helped Cherwell Software to reach a 437% content share growth.
Top Influencer Marketing Agency #16: INF
INF's niche is talent management, helping you find the right influencer for your brand. This influencer will match your brands' philosophy, values, and image, so your campaign will be more effective.
Here's why:
This strategy fosters trust and effective influencer-brand image transference in your consumers' minds.
Yet, INF's database features mostly lifestyle and beauty influencers. You'll also see a gamut of micro-niches such as traveling, wellness, and parenting. Popular influencers like Jamie Paige or Kimberly Margarita can help you connect to your audience through:
Content development
Public talks
Product placement
And much more
Top Influencer Marketing Agency #17: Leaders
Leaders is among the old names in influencer marketing, as they've been around for more than a decade. Experience has proven that they know what they're doing:
They extract the right insights from the multitude of data seeping into their high-tech systems.
For you, that translates into larger, more effective influencer campaigns and continuous expansion. Here's why:
Leaders connects you to relevant, suitable influencers on their Tinder-looking platform. After choosing an influencer that you click with, Leaders helps you build and implement your campaign. In the process, they'll also keep track of its results from start to finish.
Top Influencer Marketing Agency #18: Infinite
Infinite provides comprehensive advertising services, not just influencer marketing. That's a point in their favor because building trustworthy brands before the digital era was harder. Infinite puts their "old world" knowledge to fair use by deconstructing your brand on three coordinates:
Creativity
Interactivity
Motivation
The result of this deconstruction is uncovering the reason for your brand's existence. Getting to your brand's essence is crucial to understand how your brand can meet your consumers' needs.
This process may seem theoretical or esoteric. Yet, Infinite's specialists use a slew of quantifiable strategies so that your campaign brings consistent results.
Top Influencer Marketing Agency #19: The Goat
The Goat is one of the fastest-rising stars of influencer marketing, according to Adweek. This agency's philosophy stands on two pillars: transparency and dynamic data analysis.
The Goat explains that 80% of influencers don't work for your brand, which is why they've developed their effective CRM software.
This software ensures your business strategies are data-driven. The Goat used its 7+ years of performance data, 450,000+ tracked posts, and 70,000+ vetted influencers. The outcome: it built over a thousand successful campaigns.
The Goat also understands that vanity metrics are less important than performance data.  So, an influencer's number of followers and engagement rate don't count as much as downloads, clicks, and conversion rates. That's why they'll find you the right fit, as they did for companies like Estee Lauder and Gymshark.
Top Influencer Marketing Agency #20: StarGazer
StarGazer realizes that companies want to get tangible benefits from influencer marketing:
Thus, StarGazer promises that its strategies can bring you more than brand awareness.
This agency's direct-response campaigns are efficient and meaningful. The agency connects you to an easy-to-convert audience. StarGazer employs performance-oriented apps and famous e-commerce platforms. So, more people buy your products, while your CPAs stay low.
Their secret is an expert staff that sifts the multitude of data about:
Demographics
Preferences
Relevant topics
Followers' engagement
Also, they use a proprietary prediction tool to estimate their 5+ million influencers' performances.
The result is a valuable piece of customer insight that helps you choose the right influencer. With their help, you'll build impactful messages that convert.
StarGazer will help you with other campaign steps, such as:
Logistics
Monitoring campaign efficiency
Reporting results
Ready to Choose a Top Influencer Marketing Agency?
Influencer marketing is a complex topic, and many agencies compete with one another in the same space. The most successful campaigns are heavily monitored and adapted to your brand's needs. Top influencer marketing agencies allow you to work with a diverse portfolio platforms, influencers, and content creators. They have the expertise to vet and select the right influencers based on data and your specific needs.
These are selected five 20  influencer marketing agencies 2021 in North America. Most of them handle everything from campaign planning and tracking to influencer vetting and reporting. They will help you select the right strategy that will maximize audience reach and engagement. As a result, your campaign will run smoothly and efficiently.
Use this list to decide which agency is the right fit for your brand.